Poised yet powerful, Dobermans capture our attention with their sleek coats and vigorous energy. But behind their noble appearance lies a devoted companion ready to protect and please. Let's examine their distinctive physical attributes and interactive temperament. We'll tackle techniques for managing their high prey drive and separation anxiety. You'll discover milestones and training goals for your Dobie puppy each month. We'll also cover potential health risks, lifespan, and costs of adding one of these striking dogs to your family. If you think all Dobermans are domineering and fierce, it's time to change your perception! This guide will highlight what truly makes them such loyal and loving pets. Let's appreciate the endearing traits of the Doberman Puppy!
Distinct Physical Attributes of Dobermans
Dobermans, often used as military dogs, are known for their sleek coats and athletic build. Their noble appearance speaks volumes about their traits, making them easily recognizable.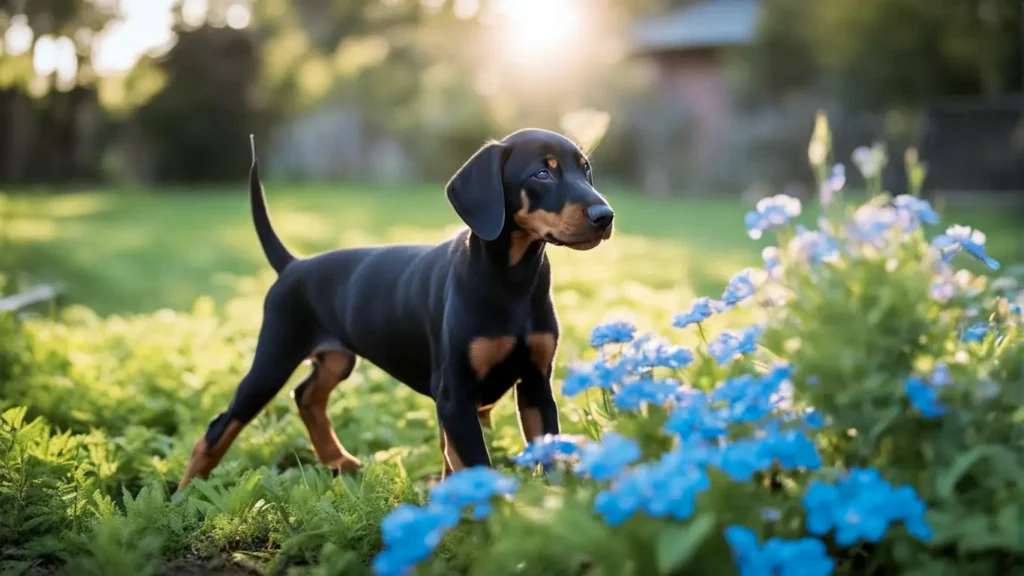 Appearance and Size
Coat: Dobermans flaunt a sleek skin that's usually black, red, blue, or fawn. The color is due to the dominant allele, while the dilute colors are owed to recessive alleles.
Ears and Tail: Traditionally, Dobermanns have cropped ears and docked tails. This gives them a distinct alert look.
Height: They stand tall, ranging from 24 to 28 inches at shoulder level.
Weight: A full-grown Doberman weighs between 60 to 100 pounds.
These physical attributes align with FCI standards set for this breed. Combining these traits gives the Doberman its unique appearance — one that's both elegant and intimidating.
Isn't it fascinating how nature crafts such perfection? It's like watching an artist paint a masterpiece stroke by stroke. Each trait contributes something distinct to the overall picture.
Doberman Temperament: Family and Pets Interaction
Dobermans are renowned for their loyalty, intelligence, and strong protective instincts. These traits make them excellent family companions. They're like the tan terrier of your neighborhood – always alert and ready to protect.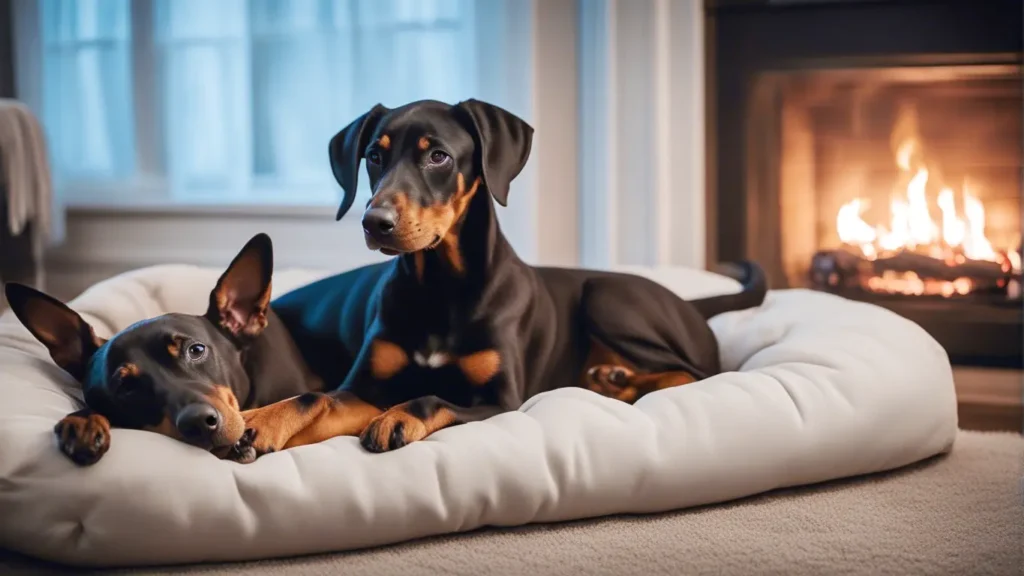 Socializing with Children
A Doberman puppy can be good with children if properly socialized early on. They enjoy participating in family activities and are known to form strong bonds with their owners.
Teach your kids how to interact with the puppy.
Supervise initial interactions.
Encourage positive behavior with rewards.
Interacting with Other Pets
Particularly dogs, Dobermans may exhibit dominance. But don't fret! They can coexist peacefully in a multi-pet household with proper training and consistent socialization.
Introduce them slowly
Monitor their interactions
Reward good behavior
Training Needs
Dobermans require consistent training due to their high energy levels. Dog sports are ideal for these energetic animals as they help channel their energy positively while promoting good health.
Try agility courses
Participate in obedience trials
Explore tracking events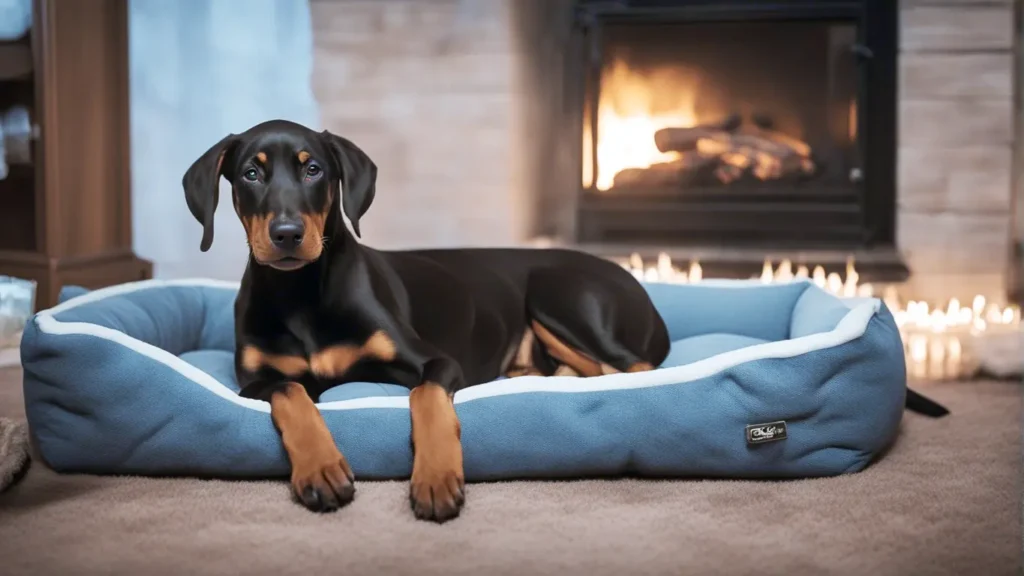 Remember, ownership of any pet requires understanding its temperament and needs. People often mistake Doberman's protective nature for aggression, but this is not the case when appropriately handled from puppyhood.
Raising a Doberman Puppy: Monthly Milestones
Housebreaking at Three Months
Your little star, the Doberman puppy, starts its journey with housebreaking at three months old. It's like teaching kids their first words. The dog learns to do its business outside during walks or at specific times of the day.
Basic Obedience Training for Four Months
Four months into breeding your Doberman puppy, it's time for basic obedience training. Imagine it like teaching children manners – sit, stay, come are the ABCs for your dog.
Socialization in the First Six Months
Socializing your Doberman puppy is as critical as getting kids to play with other children. In the first six months:
Introduce them to various people and environments.
Let them meet other dogs and animals.
Expose them to different sounds and experiences.
This early socialization will help shape your pup into a well-rounded adult dog.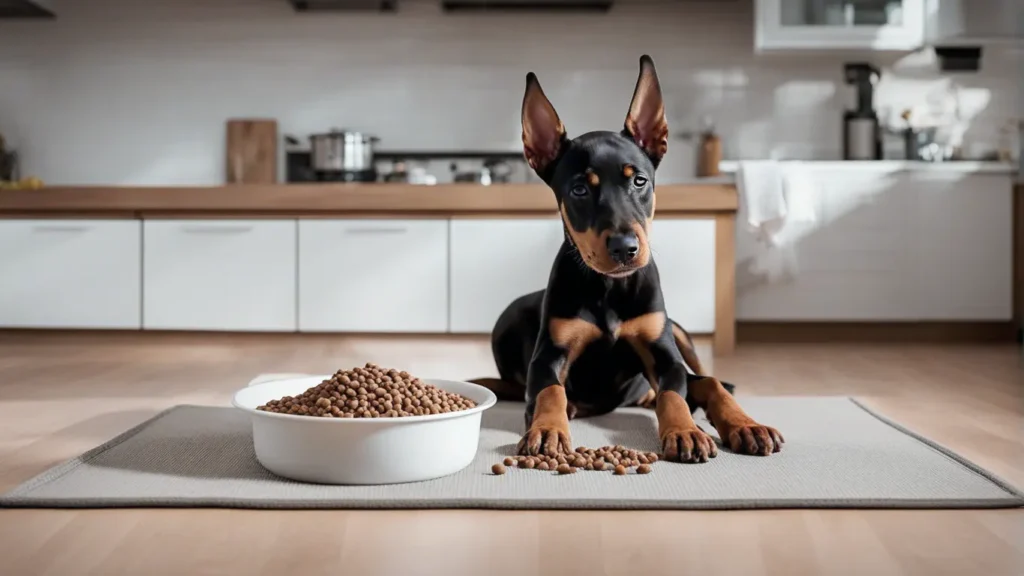 Physical Maturity at Two Years
Like movie stars waiting for their big break, Doberman puppies reach full physical maturity around two years old. By this time:
Their ears stand tall and alert.
They've grown into their sleek and powerful bodies.
The playful puppy energy starts to mellow a bit.
Raising a Doberman puppy is an exciting journey filled with milestones that transform them from an adorable bundle of joy into a loyal companion by your side!
Managing Doberman's High Prey Drive
Regular Exercise and Training
Dobermans, due to their breeding practices, have a high prey drive. This means they've got a lot of energy that needs managing. Regular exercise is crucial for these dogs. It helps control their high energy levels and reduces the urge to chase after everything that moves.
Training also plays a crucial role in managing the Doberman's prey drive. Techniques such as the 'leave it' command can effectively control this chasing behavior.
Take your dog for long walks or runs.
Play fetch or tug-of-war games.
Use training commands like 'sit'' 'stay'' and especially 'leave it''
Mental Stimulation
Just as food is necessary for man, mental stimulation is needful for these dogs, too. It keeps their mind sharp and focused, reducing unwanted behaviors.
Puzzle toys are great options.
Agility courses can also provide both physical and mental challenges.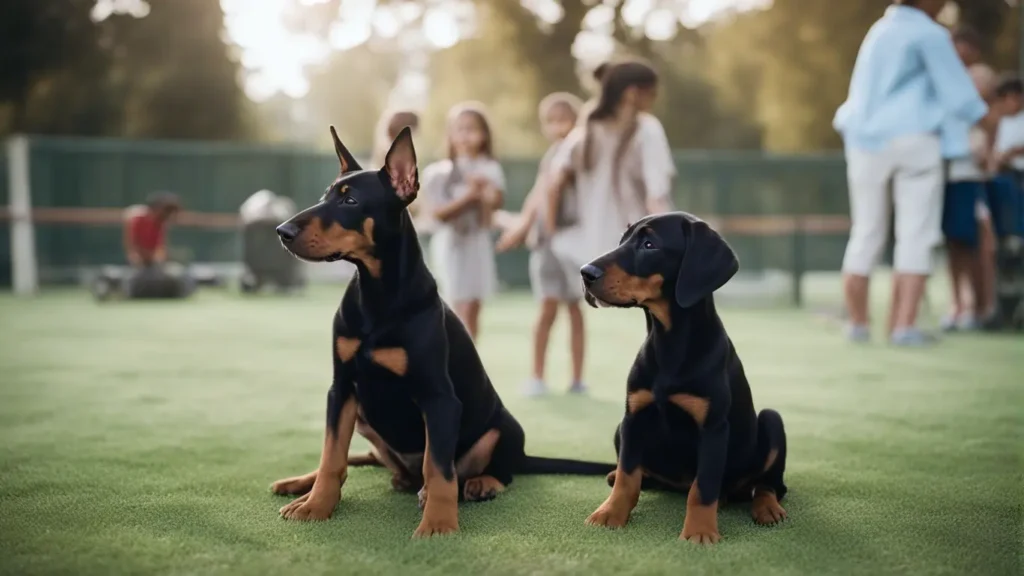 Positive Reinforcement
Positive reinforcement techniques work well with Dobermans. They respond better to rewards than punishments.
Reward your dog when they follow commands correctly.
Use treats or praise as rewards.
Doberman's Tolerance for Solitude
Dobermans, known for their love and loyalty, are social dogs. They don't thrive in solitude. Their ability to get along with others, even strange dogs, is a testament to their companionable nature.
Long periods alone aren't suitable due to the breed's social tendencies.
Frequent solitude can lead to separation anxiety, a common health concern among Dobermans.
Crate training is a helpful tool for managing short periods of absence. It provides mental stimulation and care that meets their needs.
Coping Strategies
When you can't avoid leaving your Doberman alone:
Consider crate training – it helps manage short absences.
Opt for doggy daycare or hire pet sitters during extended absences.
These options provide companionship and prevent health problems like separation anxiety.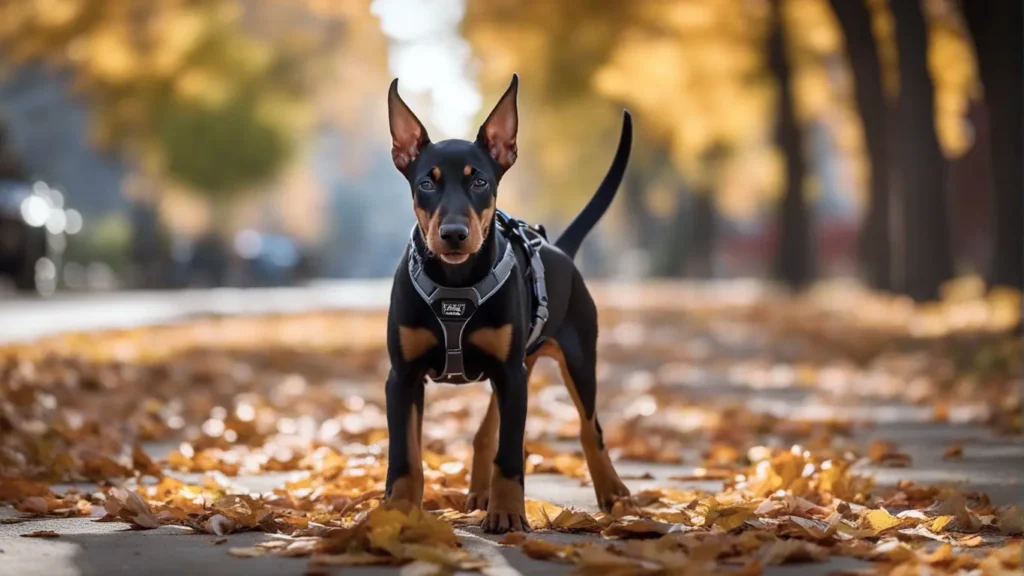 Despite their tendency towards sociability, Dobermans can adapt to apartment living with proper care and attention. However, they have specific needs due to potential health concerns like dilution gene-disease.
In essence:
A lonely Doberman isn't a happy one
Your pup craves companionship as much as you do
Careful planning can ensure your furry friend stays healthy and content even when you're not around
Remember: A little love goes a long way in ensuring your Doberman puppy thrives!
Lifespan and Price Range of Dobermans
Quick Facts on Doberman's Life
A typical Doberman puppy will stick around for about ten to twelve years. That's a decade or more of pure canine companionship!
Lifespan: 10-12 years
Price: $1500-$2500
Common Health Issues: Heart disease, hip dysplasia
Healthcare Tip: Regular vet check-ups are a must!
Now, let's dive into these points.
The lifespan of a Doberman puppy hinges on various factors like genetics and health care quality. But generally, they live between ten to twelve years.
How Much Does a Doberman Puppy Cost?
If you're considering getting a buddy for yourself, remember that the price range varies. Depending on the pedigree, it can be anywhere from $ 1,500 to $ 2,500. So be sure to budget accordingly!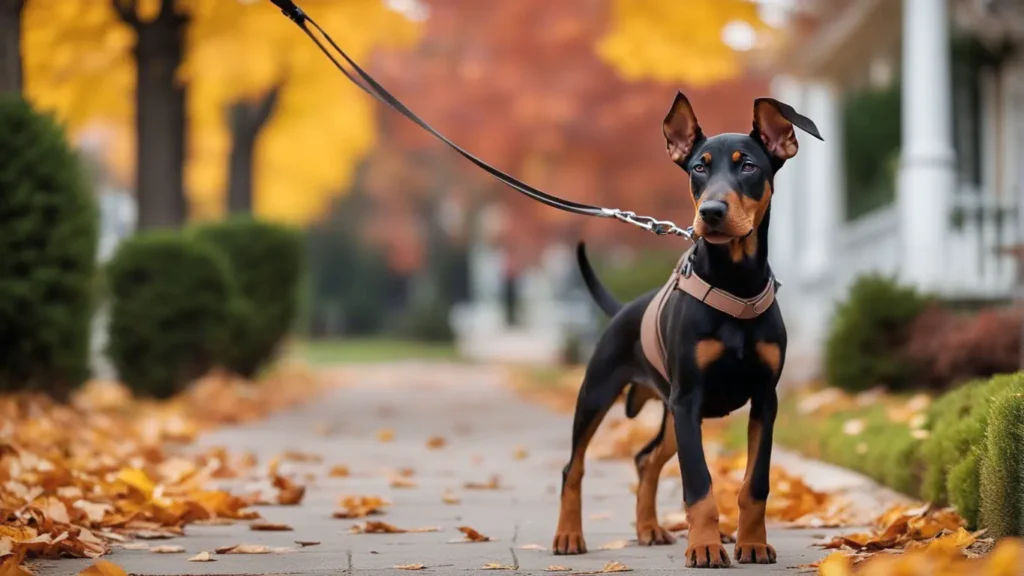 Potential Health Risks
Like any breed, Dobies aren't immune from health concerns either:
Heart Disease: This is one common issue in this breed.
Hip Dysplasia: Another potential problem to watch out for.
These aren't matters guaranteed, but it's good to watch.
Importance of Regular Vet Check-ups
Regular vet check-ups are non-negotiable! They help catch potential issues early and ensure your pup stays in tip-top shape.
So there you have it – the basic rundown on what you need to know about Doberman puppies' lifespan and price range!
Wrapping Up the Doberman Journey
The Doberman Pinscher offers more than imposing looks and an intimidating presence. Socialize and train them with patience and care. Keep their bodies and minds engaged to prevent problem behaviors. Do this, and they'll reward you with years of companionship and protection. While their striking appearance evokes images of power, remember there's a sensitive spirit beneath, ready to bond with family. Are they considering these often misunderstood dogs? Be prepared to have your heart captured by their devotion. Dobermans may look imposing, but their unwavering loyalty proves they have just as much heart as brawn.
How much exercise does a Doberman need?
Dobermans are high-energy dogs that require daily exercise to stay healthy and happy. This could include walks, runs, yard playtime, or agility training.
Are Dobermans good with kids?
Yes, if properly trained and socialized from an early age, Dobermans can be great companions for children.
What health issues are common in Dobermans?
Some common health issues in Dobermans include hip dysplasia, heart conditions like dilated cardiomyopathy (DCM), von Willebrand's disease (a bleeding disorder), and hypothyroidism.
How long does a Doberman live?
A healthy Doberman can expect to live between 10-13 years on average.
Are Dobermans expensive to care for?
The cost of caring for any dog varies depending on factors such as diet, healthcare needs, and lifestyle choices. However, due to potential health issues specific to the breed, owning a Doberman may incur higher costs than other breeds.
.